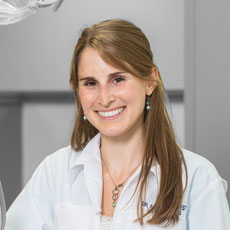 "At VCU Dental Care, we put all of our efforts and resources into every case we treat, collaborating with other dental specialists and doing whatever it takes to make sure every patient is happy with their final result."
– Alexandra Best, D.M.D., dental resident
At the resident practice at VCU Dental Care, comprehensive care is provided by professional dentists earning specialty and advanced dentistry degrees. Our services are ideal for patients who require coordinated care between specialists.
Board-certified faculty members direct this practice, where residents provide services including general dentistry, crowns, bridges or dentures, root canals, periodontics, pediatric dentistry, orthodontics, and oral and facial surgery.
Meet our providers