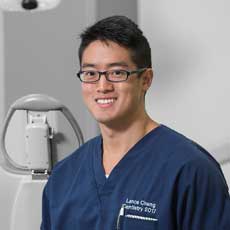 "At VCU Dental Care, we bridge the gap from dental anxiety to proper oral health through delivery of high quality compassionate care. "
— Dental student
The student practice at VCU Dental Care is home to graduate students earning their dentistry degrees, each supervised by an expert faculty member as they work with patients.
You can make an appointment with the student practice for services including general dentistry, crowns, bridges or dentures, root canals and periodontics.
New patients
An initial screening visit that includes a dental exam and panoramic X-ray is required to become a patient in our student practice. During the visit, faculty dentists will assess your overall dental needs and determine if they meet the educational objectives of our student dentists. A $75 fee is required for this service and due at the time of service.
If you are accepted into our program, you will be assigned to a student dentist who will contact you to discuss and schedule your treatment, usually within two weeks of your screening. Although we accept the majority of patients who request our services, we regret that we cannot accept some patients because their needs are too complex for the student practice.
To register for the initial screening visit, please fill out the following form:
Please note: There is no financial screening program at our student practice. Although we are proud that we offer service at reduced fees, we do not offer in-house payment plans or fees on a sliding scale. However, we will be happy to assist you in applying for CareCredit, a third-party credit program.
In accepting patients, we do not discriminate on the basis of race, creed, sex, national origin, age or disability.
Student 2 Student Discount Plan
Our Student 2 Student Discount Plan is exclusively for college students in Virginia. For a $40 fee per six month period, you will receive up to 80 percent off of cleanings, exams and X-rays, and 60 percent off of basic restorative treatment, such as fillings.You're also eligible for customer teeth-whitening trays for more than 80 percent off.
The first $40 of treatment during each six-month period is paid out of pocket. After that, you will start receiving discounted treatment immediately.
We have two plans, with eligibility based on your student status:
The Black and Gold plan is available to full-time VCU students. You'll receive 80 percent off exams, X-rays and cleanings and 60 percent off basic restorations such as fillings. The discount limit is $300 per six months.
The basic plan is available to all full-time college students in Virginia (including community and technical college students) and to part-time VCU students. You'll receive 50 percent off exams, X-rays and cleanings and 20 percent off basic restorations such as fillings. The discount limit is $200 per six months.
Plans are renewed every six months by providing a student ID and class schedule at the beginning of each semester. Care is provided by our third and fourth year student dentists under the supervision of teaching faculty.
For more information about the Student 2 Student Dental Plan or to make an appointment, fill out the registration form above or call (804) 828-9190.