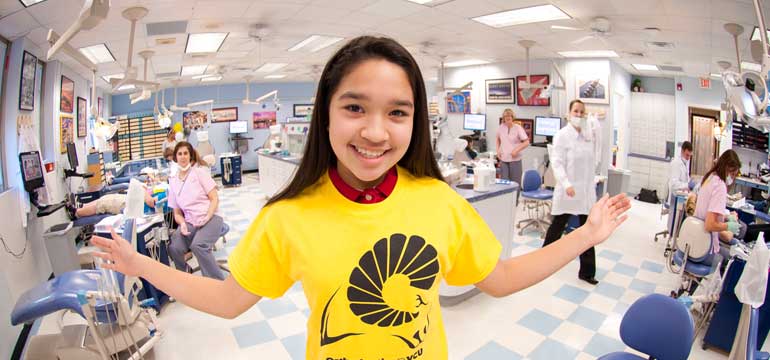 Contact us
Phone: (804) 828-0843
Fax: (804) 828-0020
Lyons Dental Building
520 N. 12th Street
Second Floor, Room 222
Richmond, Virginia 23298
Our orthodontists use the latest techniques and equipment to offer modern braces for adults and children. Our university setting means we also have active interdisciplinary programs and comprehensive care for orthognathic surgery patients, cleft palate patients and craniofacial growth problems.
Consultations
A no-charge consultation appointment is scheduled prior to any treatment. It includes an exam to determine treatment as well as discussion of fees to determine eligibility for extended payment options.
Minors must be accompanied by a parent or guardian at the first three appointments to review treatment options and give consent before services begin.
Payment options
At your initial visit, a faculty orthodontist will discuss the proposed treatment and associated costs. Once you choose to receive treatment, a second appointment will be scheduled with the person responsible for the account to complete a financial agreement.
If your insurance plan includes orthodontic coverage, we can complete and file the forms for you.
In addition to VCU Dental Care's payment options, we offer an interest-free office payment plan, which requires an initial down payment followed by equal monthly installments to cover the balance.
VCU Smile Studio
We are dedicated to improving our patients' smile, using the latest and most advanced technology. Some patients may benefit from orthodontic treatment using clear aligners from Invisalign®. These clear aligners are more esthetic than typical metal braces and allow for easier cleaning to improve oral hygiene.
The VCU Smile Studio, located in our orthodontic clinic, is open on Tuesday and Thursday mornings from 9:30 am to Noon. During the initial appointment, patients will receive a complimentary screening, an intraoral digital scan of their teeth, and a consultation with an orthodontic provider at the VCU Smile Studio. We strive for excellence in all aspects of orthodontic care, and this new practice dedicated to clear aligner treatment will enhance convenience while maintaining high quality care.